Where in the Worlds has SETI Institute Been? - Jan 15, 2017 - Jan 21, 2018
Lava Tubes on the Moon?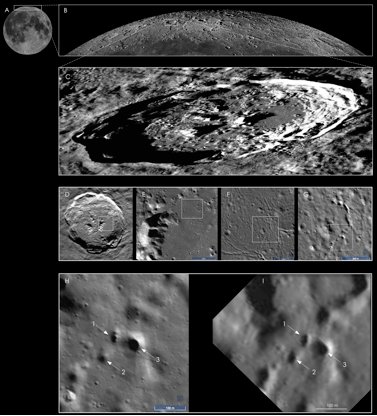 SETI Institute scientist Pascal Lee's research has revealed that there may be lunar lava tube skylights near the moon's polar regions. If confirmed, these skylights could provide access to water for future manned missions to the moon in its Philolaus Crater. These would be the first of their kind discovered on the moon. Additional research will be needed to better understand whether or not the holes at the bottom of the crater are indeed lava tube skylights.
Research Experience for Undergraduates Applications Close February 1
The SETI Institute's summer Research Experience for Undergraduates (REU) program applications for 2018 will close on February 1. 2018 will mark the 13th year that the SETI Institute's REU program has hosted students who will be paired with SETI Institute research scientists for a ten-week summer internship program, June 17, 2018 – August 25, 2018. Funded by the National Science Foundation, projects span the field of astrobiology including microbiology, planetary geology, observational astronomy, and, of course, SETI.
The Unistellar eVscope at the Consumer Electronics Show
Unistellar received the 2018 Innovation Award at the Consumer Electronics Show (CES) in Las Vegas. Using a specialized imaging technology, theeVscope offers unprecedented views of the night sky to amateur astronomers. It will also include a "campaign mode" allowing researchers to request observations from different parts of the world that can be shared. The SETI Institute and Unistellar have partnered to implement this data-sharing aspect of theeVscope.
SETI Institute Activity Report December 2017
Even during the busy holiday season, the work of the SETI Institute pushed forward. Scientists and researchers published in peer-reviewed journals, presented at scientific conferences and other professional events, and marked milestones in their research. In addition, they worked hard to share their learning with the public, through articles and interviews with the popular press, through pubic talks, and through the SETI Institute's website, social media channels, and our radio show and podcast, Big Picture Science.
Download the whole December 2017 activity report.
Big Picture Science
Last week's encore presentation of Geology is Destiny read Earth's history in rocks. This week, the DIY Spaceflight encore ponders the possibilities of building CubeSats in your basement.
Facebook Live
Last week SETI Institute Senior Astronomer and Institute Fellow shared his thoughts on UFOs and the recent revelation that the Pentagon had been involved in UFO research.
All past Facebook Live videos can be seen on the SETI Institute's Facebook page at https://www.facebook.com/SETIInstitute/.
Events
Novato Space Museum: February 5, Novato, CA Mars Day featuring Pascal Lee and a screening of Passage to Mars
American Institute of Aeronautics and Astronautics: February 5, Mountain View, CA Dinner meeting with Jill Tarter
Rencontre du Vietnam on Exoplanetary Science

: February 25 – March 2, Quy

Nohn

, Vietnam Franck Marchis will present

Osher Life Long Learning Institute: March 2, Berkeley Institute Seth Shostak and Margaret Race to discuss Big Trends in Astronomy
World's Fair Nano: March 10-11, San Francisco, CA Seth Shostak will be a featured speaker
California Academy of Sciences: April 12, 2018

Seth Shostak to participate in the monthly Nightlife talk

Palo Alto Jewish Community Center, May 2, Palo Alto, CA Seth Shostak to of offer SETI Talk presentation
Association of Computer Professionals in Education: May 4, Welches OR Seth Shostak to participate in annual conference
The Villages: May 8, San Jose, CA Seth Shostak to offer talk about SETI